Our customers all have different goals and deal with a diverse range of tasks and challenges. We make a difference by helping our customers get on with their day-to-day business, enabling them to realize their dreams, achieve their goals and seize the opportunities which come their way. Our mission is to work with our customers to prepare the ground for the future. Together we make good things happen.
Our strategy – to provide universal banking services and tailored solutions
Arion Bank is a strongly capitalized bank which provides universal banking services to corporations and individuals.
Emphasis on corporations and individuals seeking a variety of financial solutions
Focus on building and strengthening long-term customer relationships by delivering excellent service and tailored solutions
Operations in the Greater Reykjavík area and the largest urban areas around the country
Contribute to the positive development of the economy and society
Gain a leading position within the domestic financial market in regards to return on equity, operational efficiency and service offerings
Outside Iceland we chiefly provide financial services to companies related to the seafood industry in Europe and North America
Our main focuses and qualities
Cornerstones
Arion Bank's cornerstones provide guidance in our day-to-day work. They describe our character and how we do our job.
We make a difference
We lay the basis for our customers' success by getting to know them, their goals and circumstances and we make a difference by offering varied solutions and developing new products. We make a difference in the community by operating a good bank and helping to ensure that Iceland has a financial system which people can rely on.
We say what we mean
We say what we mean, show respect and we maintain confidentiality at all times. We work with integrity, are fair and speak our minds. We respect the society we live in and observe sound business practices. This is how we earn the trust of our customers and the community.
We get things done
What matters most is what we get done. We do not avoid difficult tasks but instead get on with them and deal with them professionally. We get things started and take responsibility for our projects and decisions. We take the first steps, respond quickly and keep people informed of what's going on. We aim to remain a market leader in providing quality financial services and contribute to the success of our customers and society as a whole.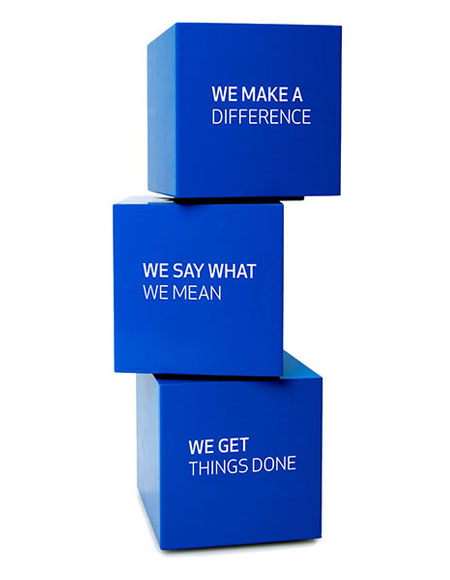 Building relationships
We are relationship bank and we meet the varied needs of our customers by applying our expertise, providing quality service and offering a diverse range of financial products. By seeing things from the customers' point of view and understanding their circumstances we are able to meet their each and every need. We strive to build and maintain good long-term business relationships with customers and to exceed their expectations.
Better banking
Lean management is integral to our culture. We underline the importance of having effective end-to-end processes across the Bank where the customer is our focus and we listen to what they say. We seek to eliminate waste and to shorten lines of communication to make us more flexible.
We see problems as an opportunity to do better, focusing on finding the root cause and seeking a solution. This is how we learn to do better today than we did yesterday. We apply what we have learned to enhance the customers' experience and satisfaction.
This is how we become a better bank for our customers and benefit society.
Digital future
We aim to be the leading digital bank in Iceland. In today's rapidly evolving society customers want to be in charge. People want to be able to choose when, where and how they obtain financial services. They want a diverse range of products, customized solutions and options to meet their expectations and requirements.
We rapidly respond to changing circumstances, new technology and shifting demands by providing solutions designed to make life easier for our customers.
Together we make good things happen.
Arion Bank – for the future.